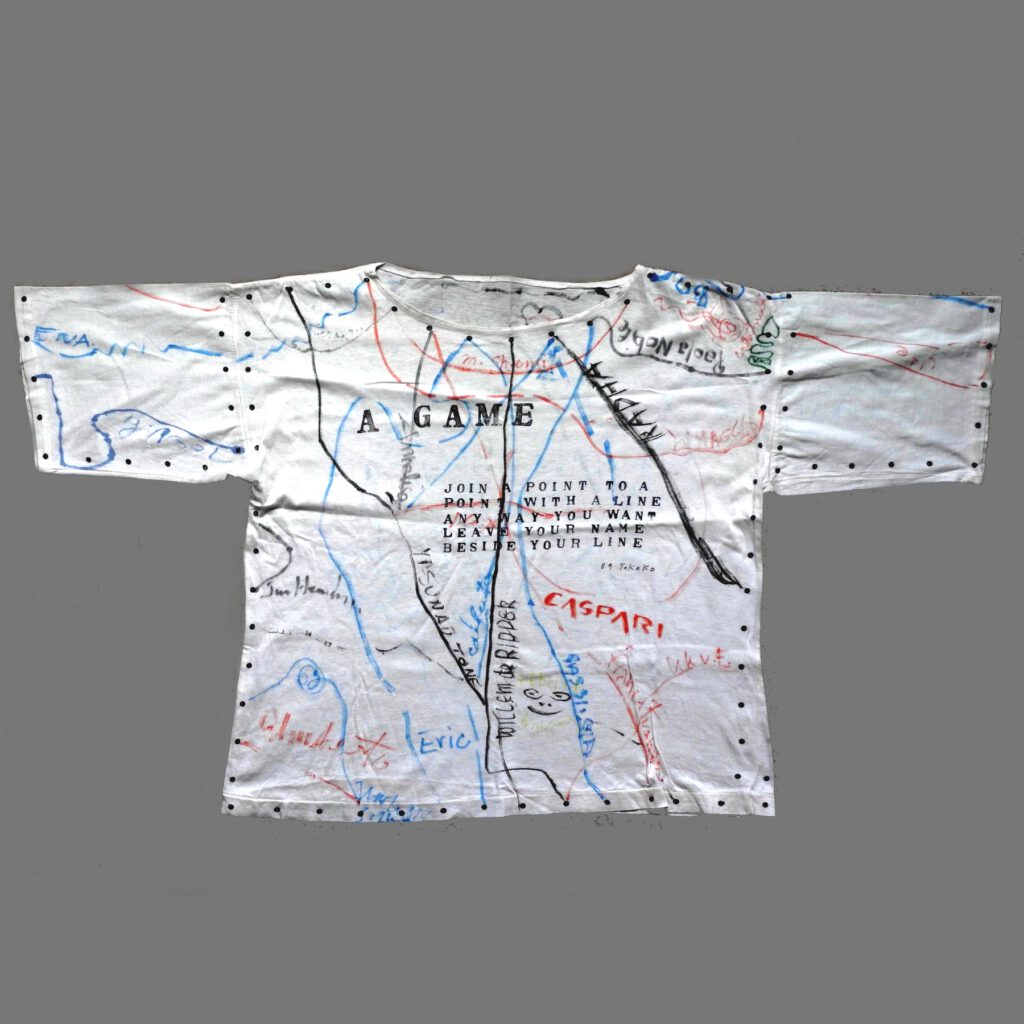 A GAME
JOIN A POINT TO A POINT WITH A LINE ANY WAY YOU WANT LEAVE YOUR NAME BESIDE YOUR LINE | 1989
Aktions-T-Shirt, Zusammenarbeit mit Annalisa, Barbara, Barbara Moore, Caspari, Christl, Eric (?), Wolfgang Feelisch, Anna Grassl, Jon Hendricks, Gino di Maggio, Lory, Paola Nobile, Mieko Shiomi, Umberto (?), Sarah Seagull, Yasunao Tone, Willem de Ridder, Carol Page, Robin Page, Ute van Elsen u.a.
Einen Punkt auf ihrem Hemd mit einem anderen verbinden und daneben den Namen hinterlassen: Oft erscheinen Takakos Anleitungen einfach. Erst wenn man quasi auf ihrem Körper als Gegenüber schreibt und mit den Linien der anderen umgehen muss, wird das zu einer vielschichtigen Angelegenheit. Zur Beisetzung ihres langjährigen Künstlerkollegen Al Hansen 1995 trug Takako dieses Hemd und berührte den Sarg mit den hinterlassenen Namen – wie um ihn noch einmal in Kontakt mit den Freunden zu bringen.
Connect one dot on her shirt to another and leave the name next to it: Often Takako's instructions seem simple. It is only when one writes on her body as a counterpart, as it were, and has to deal with the lines of others, that it becomes a multi-layered affair. For the funeral of her long-time artist colleague Al Hansen in 1995, Takako wore this shirt and touched the coffin with the names left behind – as if to bring him once again into contact with friends.