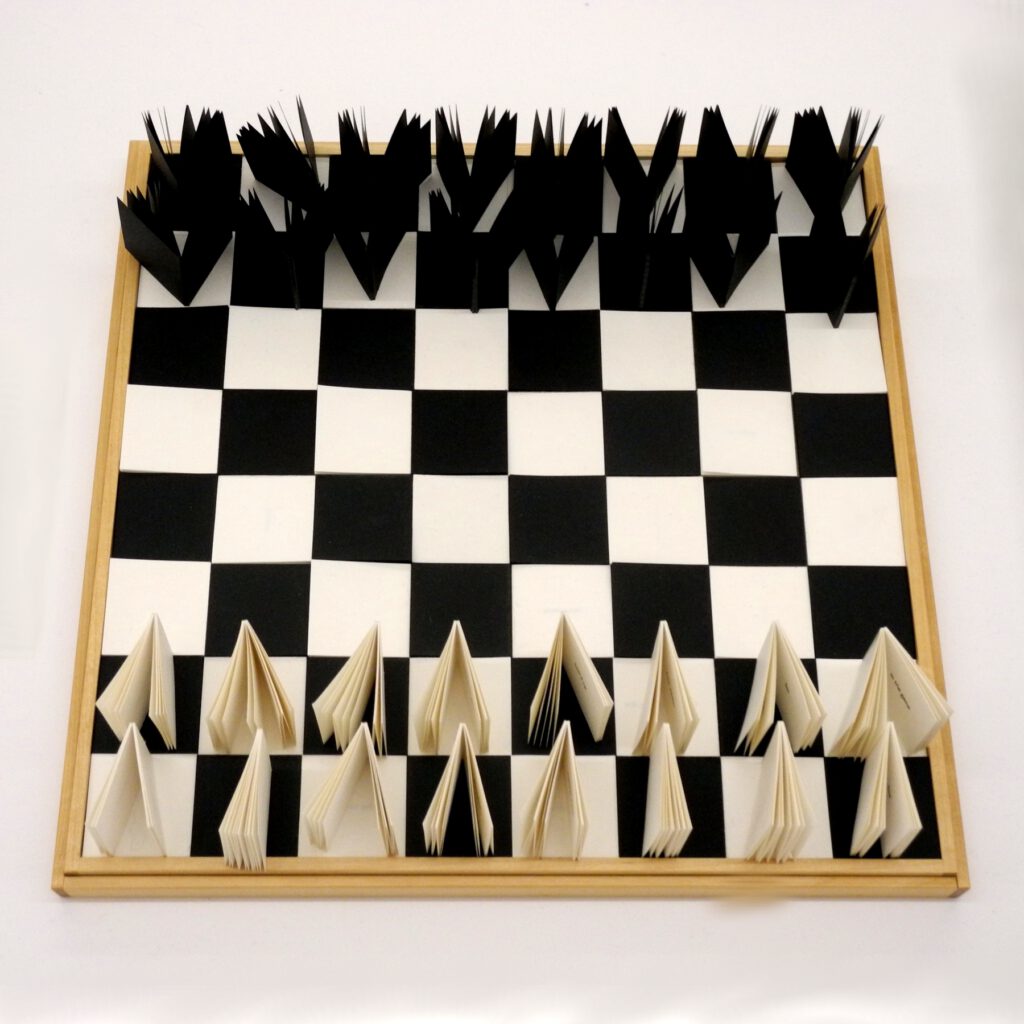 Buchschachspiel N°1  | 1984
Schachbrett, Miniaturbücher
34,5 x 34,5 x 1,5 cm
Als Edition: Buchgalerie Mergemeier 1999
Schachbücher gibt es viele, Buchschachspiele wohl nur von Takako. Vieles von dem was man in Schachbüchern über Strategien und Regeln für das Spiel der Könige nachlesen kann, hat hier wenig Gültigkeit. Die Figuren sehen sich so ähnlich, dass sich der Überblick über den Spielverlauf verlieren kann. Dafür hat Takako eine Regel aufgestellt.
"Wenn ein Spieler während des Schachspiels vergessen hat, mit welcher Figur sein Gegner spielt, bittet er ihn den Text aus dem Buch vorzulesen. Wenn ein Spieler die Figur austauschen möchte, kann er in das Buch unter seiner Figur schauen. Sollte es sich um diesselbe Figur handeln kann er tauschen."
Auf dem berühmten achten Feld der schwer erreichbaren gegenüberliegenden Seite angelangt, kann im Schachspiel der Bauer zur Dame und damit zur mächtigsten Figur werden. Geschieht das hier auch auf einem anderen Feld? Man kann in den kleinen Büchern des Spiels nachlesen, steht in der Regel. Und vielleicht hat man ja Glück.
There are many chess books, book chess games probably only by Takako. Much of what you can read in chess books about strategies and rules for the game of kings has little validity here. The pieces look so similar that it is easy to lose track of how the match has progressed. Takako has a rule for this.
"During the chess game, if a player forgets which piece his opponent is playing with, ask him to read the text from the book. If a player wants to change the piece, he can look in the book under his piece. If it is the same piece, he can swap."
Having reached the famous eighth square of the hard-to-reach opposite side, in chess the pawn can become the queen and thus the most powerful piece. Does that happen here on another square? The comment was that you can read in the little books of the game. Perhaps you are lucky.